Welcome to the SPCA San Pat County website.  Here at the Sandra Sue Benson Animal Adoption Center animals live in a comfortable temporary setting while waiting to be adopted into loving families.
Shrimp boil fundraiser
Sunday, October 25, 2020 at the VFW in Ingleside. Starts at noon! Stop by and enjoy some great food and help us help them.  $15/ pound, includes potatoes 'n corn!  We look forward to seeing you there!
this is skeeter…


ADOPTION DAYS
As we work through the COVID-19 (Coronavirus), we had made a difficult decision to go with Appointment ONLY adoptions.
We want to help you find a forever friend but want to do this in a safe manner for everyone including ourselves and animals.  Please view our website adoption area and if you see someone that you just can't wait to meet or have some stuff that you would like to donate, give us a call (361-332-1445) and leave us a message and we will set up a play date or a time to meet.
We will keep everyone up to date via social media and hope to return to normal operations soon. Thank you for your support!

Meet-Greet-Play Fetch-Belly Rubs Take one home.  Bet you find your next Best Tail Wagging Friend! It will definitely make you both happy We have purry furry friends who need homes. You just might find your next Best Furry Friend. A lucky day for both of you!
We are located at 4630 FM 1069 in Aransas Pass, TX.  Look for the big blue building just south of Walmart and Lowes.
AVAILABLE DOGS   Click for the dogs currently available for adoption.
AVAILABLE CATS   Click for the cats currently available for adoption.
PET OF THE WEEK

Name: memphis
Gender: female
Age: 4 years
Breed: american staffordshire terrier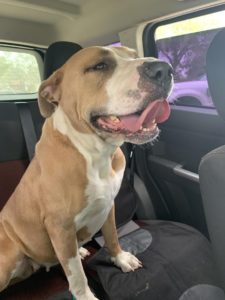 Memphis is an 80 pound hunk of love. She came from Ingleside animal control and has been with us since April 3rd of this year. She can be a little pushy because she doesn't quit realize how big she is. Memphis loves giving and receiving kisses. She would probably do best in a home with older kids, she has some fear of smaller kids because at one point in her life younger kids weren't very nice to her. Memphis is so deserving of her own family to love and give her happy life. She was heart worm positive when we got her but she has completed her treatment and is on monthly prevention to ensure she gets to have a second chance of a long healthy life ahead of her. She is spayed, vaccinated, microchipped and on flea and tick/heart worm prevention. We do not recommend her for a home with cats.  Call us at 361-332-1445 to schedule an appointment Monday-Thursday or Saturday from 10-2:30. You can also find us on Facebook or reach us at sandrasuebensonanimaladoption@gmail.com
the dona farrar intake building is now open!!!!!
Mondays, from 10 am to 2 pm, we will evaluate potential adoptees by appointment.   Please call us at 361-332-1445 to schedule an evaluation for a dog or cat that you need to rehome.
Here is a list of resources you may find helpful if your pet gets into poison
What To Do If Your Pet Swallows Poison
https://www.thehonestkitchen.com/blog/what-to-do-if-your-pet-swallows-poison/
How to Poison Proof Every Room of Your Home
https://www.safewise.com/blog/poison-proof-every-room-home/
Pet Poison Guide: Garage and Laundry Dangers
https://www.gopetplan.com/pet-poison-guide/household/garage-and-laundry-toxins
40+ Foods That Are Poisonous or Unhealthy for Dogs and Cats
https://pethelpful.com/dogs/Dangerous-foods-that-can-sicken-or-kill-your-dog-cat-or-other-pet
A-Z List of Poisonous House Plants for Cats and Dogs
https://www.houseplantsexpert.com/poisonous-house-plants-for-cats-and-dogs.html
How to Find Cleaning Products Without Pet Poisons
http://greencleaningreviews.com/how-to-find-cleaning-products-without-pet-poisons/
Are Your Pet's Toys Toxic?
https://www.huffpost.com/entry/are-your-pets-toys-toxic_b_4859835
CLICK SERVICES TO SEE OTHER SERVICES AVAILABLE AND A LIST OF HELPFUL ORGANIZATIONS.