Welcome to the SPCA San Pat County website.  Here at the Sandra Sue Benson Animal Adoption Center animals live in a comfortable temporary setting while waiting to be adopted into loving families.
ADOPTION DAYS
As we work through the COVID-19 (Coronavirus), we had made a difficult decision to go with Appointment ONLY adoptions.
We want to help you find a forever friend but want to do this in a safe manner for everyone including ourselves and animals.  Please view our website adoption area and if you see someone that you just can't wait to meet or have some stuff that you would like to donate, give us a call (361-332-1445) and leave us a message and we will set up a play date or a time to meet.
We will keep everyone up to date via social media and hope to return to normal operations soon. Thank you for your support!

Meet-Greet-Play Fetch-Belly Rubs Take one home.  Bet you find your next Best Tail Wagging Friend! It will definitely make you both happy!
We have purry furry friends who need homes. You just might find your next Best Furry Friend. A lucky day for both of you!
We are located at 4630 FM 1069 in Aransas Pass, TX.  Look for the big blue building just south of Walmart and Lowes.
AVAILABLE DOGS   Click for the dogs currently available for adoption.
AVAILABLE CATS   Click for the cats currently available for adoption.
PET OF THE WEEK

Name: bandit
Gender: male
Age: 1 year
Breed: border collie mix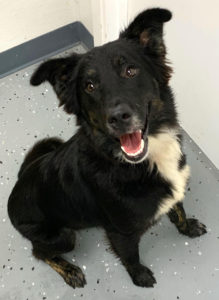 Meet BANDIT!! This handsome boy is a Border Collie mix. He has
had such a rough start in his young life. He was originally adopted
from Aransas Pass Animal Control; however, he exceeded the
weight limit for his owner's home; so, his owner gave him to a
friend. A short time later, this friend decided he no longer wanted
him, so it is assumed he dumped him. Luckily for BANDIT, he was
found by a kind lady who brought him into the Center. This boy is
the total package! He's loving, young and healthy! He's good with
other dogs as well as children. He is neutered, heartworm negative,
and potty trained. Make an appointment to visit BANDIT soon!
the dona farrar intake building is now open!!!!!
Mondays, from 10 am to 2 pm, we will evaluate potential adoptees by appointment.   Please call us at 361-332-1445 to schedule an evaluation for a dog or cat that you need to rehome.
VOLUNTEER  Click here for all the fun and rewarding volunteer opportunities.

Zero charge to you!! Hero change for us!! Now it's possible to help SPCA San Pat County whenever you buy from Amazon. Log in to smile.amazon.com and choose SPCA San Pat County as your charity!! Every time you make a purchase, Amazon will donate a small percentage of what you pay without charging you an extra penny. Amazon Smile purchases add up big for us with just a little effort from you. Woof! Meow! Thank you!
THERE ARE MANY WAYS TO DONATE to help us help the animals.  You can donate Wish list items, monetary donations, or honor the memory of a loved one with a MEMORIAL.  We are a 501C3 non-profit so your donations are tax deductible.
Please support these local businesses!
Please patronize these businesses that either have doghouse donation boxes or donate to us through the year, or both. We certainly appreciate them!
ARANSAS PASS/INGLESIDE
HEB
Tractor Supply
Lone Star Hardware
Asian Garden
Prosperity Bank
Walmart
Bakery Cafe
Butterchurn
Spanky's (HEB)
Discount Auto Parts
Aransas Pass Library
ButlerFit Gym/Fitness Center
Spanky's (WM)
Fisherman's Daughter
Spanky's (Ingleside)
Buckhorn Saloon
Blackbeard's
Floyd's Ranch House
ROCKPORT
Pro Build
Bakery Cafe
Spanky's (HEB)
TAFT/SINTON
Butterchurn
McCoy Vet Clinic
Prosperity Bank (Sinton)
Parker Building Supply
Prosperity Bank (Taft)
Cross Point Vet Clinic
PORTLAND/GREGORY
Lone Star Hardware
Value Bank
Prosperity Bank
Books Ink
Spanky's (HEB)
Post Net
Portland Vet Clinic
1st Community Bank
San Patricio Animal Clinic
Spanky's (181)
Andi's Salon
CLICK ON THE  nEWS LINK FOR THE LATEST NEWS INCLUDING this wonderful project as well as FUNDRAISING EVENTS AND RESULTS!
                                    ______________________________                                                                                                                                                                                                      
CLICK SERVICES TO SEE OTHER SERVICES AVAILABLE AND A LIST OF HELPFUL ORGANIZATIONS.