Welcome to the SPCA San Pat County website.  Here at the Sandra Sue Benson Animal Adoption Center animals live in a comfortable temporary setting while waiting to be adopted into loving families.
RIBBON CUTTING for the new Dona Farrar Intake Building is Tuesday, April 23rd at 9am!!!
ADOPTION DAYS
Every Tuesday, Thursday and Saturday from 10am until 2pm!
Meet-Greet-Play Fetch-Belly Rubs Take one home.  Bet you find your next Best Tail Wagging Friend! It will definitely make you both happy!
We have purry furry friends who need homes. You just might find your next Best Furry Friend. A lucky day for both of you!
We are located at 4630 FM 1069 in Aransas Pass, TX.  Look for the big blue building just south of Walmart and Lowes.
ADOPTION HOURS
Every Tuesday, Thursday and Saturday from 10am until 2pm.
AVAILABLE DOGS   Click for the dogs currently available for adoption.
AVAILABLE CATS   Click for the cats currently available for adoption.
       PET OF THE WEEK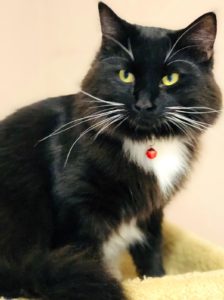 Name: spatz
Gender: male
Age: 8 months
Breed: tuxedo
Code #  00392
Look at this regal fella!! His name is SPATZ, and he is so big and handsome! His birth date is 08-24-18 and he weighs about 13 pounds! He is a gorgeous hunk of love! He was adopted when he was a kitten, but returned recently because his owner fell on hard times. His owner had taken very good care of him and another cat. Spatz is what is called a "tuxedo" kitty with fairly long hair. He is neutered and up to date on his vaccines. Come meet Spatz today! He won't be around for long!
Can't adopt?  There are lots of ways to help…
Special thank you to Tiffany Flores for donating kitty toys from our Amazon Wish List!
VOLUNTEER  Click here for all the fun and rewarding volunteer opportunities.

DONATE  click here for the many ways to donate to help us help the animals.  you can donate Wish list items, monetary donations, or honor the memory of a loved one with a memorial.  We are a 501C3 non-profit so your donations are tax deductible
                                     ______________________________
OUR NEW INTAKE BUILDING IS ALMOST COMPLETE! CLICK ON THE nEWS LINK FOR THE LATEST NEWS INCLUDING FUNDRAISING EVENTS AND RESULTS!
                                    ______________________________                                                                     

CLICK SERVICES TO SEE OTHER SERVICES AVAILABLE AND A LIST OF HELPFUL ORGANIZATIONS.