Welcome to the SPCA San Pat County website.  Here at the Sandra Sue Benson Animal Adoption Center animals live in a comfortable temporary setting while waiting to be adopted into loving families.
ADOPTION DAYS
Every Tuesday, Thursday and Saturday from 10am until 2pm!
Meet-Greet-Play Fetch-Belly Rubs Take one home.  Bet you find your next Best Tail Wagging Friend! It will definitely make you both happy!
We have purry furry friends who need homes. You just might find your next Best Furry Friend. A lucky day for both of you!
We are located at 4630 FM 1069 in Aransas Pass, TX.  Look for the big blue building just south of Walmart and Lowes.
ADOPTION HOURS
Every Tuesday, Thursday and Saturday from 10am until 2pm.
AVAILABLE DOGS   Click for the dogs currently available for adoption.
AVAILABLE CATS   Click for the cats currently available for adoption.
       PET OF THE WEEK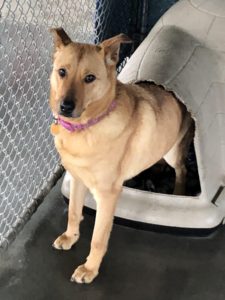 Name: missy
Gender: female
Age: 2 1/2 years
Breed: terrier
Code # 00411
This is not just another brown dog! This is MISSY!! Poor, sweet
Missy keeps getting overlooked by potential adopters because she
is so quiet and "common" looking. However, Missy is no kind of
"common"! Missy is very smart, well mannered, healthy, and LOVES
people. She tends to play well with other dogs too, especially her
best bud, Finn! She seems to be potty-trained as she seldom has
accidents inside her kennel. She is a pleaser, so responds to
commands well. Missy is spayed, microchipped, weighs about 40
pounds, and is almost 3 years of age. Missy has been at the Center
for several months and wants so badly to have a family of her own.
Missy would be ideal for almost any one person, or a family with
children over 5. If you have been searching for that companion who
doesn't need a lot of training, then Missy is the dog for you!
Can't adopt?  There are lots of ways to help…
VOLUNTEER  Click here for all the fun and rewarding volunteer opportunities.
DONATE  click here for the many ways to donate to help us help the animals.  you can donate Wish list items, monetary donations, or honor the memory of a loved one with a memorial.  We are a 501C3 non-profit so your donations are tax deductible
                                     ______________________________
OUR NEW INTAKE BUILDING IS ALMOST COMPLETE! CLICK ON THE nEWS LINK FOR THE LATEST NEWS INCLUDING FUNDRAISING EVENTS AND RESULTS!
                                    ______________________________                                                                     

CLICK SERVICES TO SEE OTHER SERVICES AVAILABLE AND A LIST OF HELPFUL ORGANIZATIONS.