About IN MEMORIAM requests
Donations are a lovely way to remember a cherished family member or friend as well as a beloved furry friend. Your generosity will go a long way to continue operations at the Sandra Sue Benson Animal Adoption Center in San Patricio County.  The Center is a comfortable temporary home where animals stay while waiting to be adopted into a loving family.
TO DONATE
Click CONTACT and complete the form for either a person or pet memorial. The Donate button is at the bottom of the form.
To pay via credit card or PayPal click below the completed form.
Make check payable to SPCA San Pat County and mail to PO Box 1693, Aransas Pass, TX, 78335.
SPCA San Pat County sends a thank you letter to the donor which can be used for tax purposes.  A letter to the family of the memorial person will be sent to inform them of your gift (please include an address for the family).
PERSONALIZED BRICKS SERVICE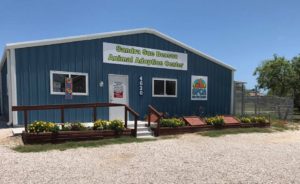 Personalized bricks are on display in front of the Sandra Sue Benson Animal Adoption Center. The specially constructed frames  each contain 24 to 30 bricks and are set within the tiered flowerbeds. As we receive more bricks, a fourth frame will be constructed.
Each brick costs $50.00 and is engraved with your personal message. If you would like to purchase one, please stop by on Tuesday, Thursday or Saturday from 10am until 2pm to pick up the special order form. We will also be happy to mail one to you. Call  and leave a short message, your name and phone number. We will return your call. Or email us by clicking CONTACT. Your donation allows us to continue operating the Sandra Sue Benson Animal Adoption Center and improve the welfare of animals in San Patricio County.