RABIES CLINIC

December 5th to 10th/$5.00 Rabies Vaccines/call for appointment, 361.364.4551. McCoy Veterinary Clinic in Sinton, Texas.
FALL FESTIVAL 2011
Fall Festival 2011 at the First United Methodist Church in Portland was a chance for us to spread the word about SPCA San Pat County and our programs. SPCA had a good showing of members including Barbara Atwood with the Windfest Kite; Becky Hutchison with the Blood Drop; and Pat Zylks with the IBC Free Bee. Other members also attended.
CASINO EVENT RAISES MONEY FOR SPCA
There are so many homeless pets around who have no idea how hard folks are working to build a safe place for them to live in San Patricio County. Saturday night was the Fourth Annual Denim & Diamonds Casino Nightheld at the Aransas Pass Civic Center hosted by the SPCA San Pat County. The crowd was huge and the music was wonderful, provided by the Jason Southern Band. Casino games covered one side of the Civic Center while dozens of great silent auction items covered tables on the opposite side. In between were hundreds of people having a great time enjoying the evening. Over 400 tickets were sold for the event.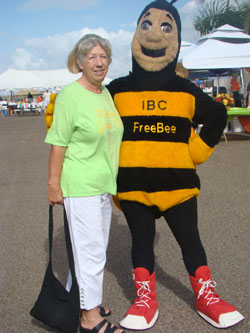 Fundraising Chairman Pat Martinez said they have already purchased 3.9 acres of land on 1069. Now they are trying to get the utilities and a parking lot so equipment can be brought in. The building is the next item. Pat said, "The first year we raised $11,000. The second year we raised $18,000.The third year we raised $22,000..This year we raised $19,000. Our thanks to everyone who donated and attended our biggest fund–raiser of the year, Casino Night.
The long–term goal is to build and maintain an animal shelter that will serve the needs of San Patricio County. Animals will be housed in a humane manner while waiting for a loving home. People will be able to adopt a homeless animal from a brand new facility in the future.
While they work on the long–term goal of building an animal shelter, they will also have an education section that teaches people about the need to spay or neuter their pets. They are in need of funds for the following items: educational materials, traps for feral cats, spaying and neutering feral cats, and grant writing salary to raise large amounts of money.
They are also in need of volunteers to raise funds, provide foster care, and many other tasks. Monthly meetings are open to the public and are held the first Thursday of the month at 6 pm in the Aransas Pass Public Library, 110 N. Lamont, Aransas Pass. To get more information, please call 361.332.1445.
– Lee Harrison, The Ingleside Index