WELCOME NEW VOLUNTEERS
We welcome interested animal lovers who have the time, patience and passion needed to keep the current in-shelter cats and dogs cozy, comfortable, exercised and nurtured.  Our maximum in-shelter population is 20 cats and 10 dogs.  All of them deserve the best care and the best chance to find a forever home.  
Clean kennels, cages and cat rooms:  We call this "housekeeping!"
Brush, stroke, walk, hug: We call this "well worth housekeeping!"
7 days a week, 365 days a year  The animals need us every day and are happy to see us every day. It doesn't get much better than that!  AM housekeeping starts at 8:00am and takes about 1.5 hours. PM housekeeping starts at 4:00pm and also takes about 1.5 hours.
If you are interested in helping out any morning or evening, please pick up an application during our open hours 10:00am until 2:00pm on Tuesday, Thursday or Saturday. Orientation/training is provided on an as-needed basis. We hope to hear from you soon! If we don't answer the phone, please leave a short message with your name and phone number. We may be out playing fetch with Fido!! We will return your call.
VOLUNTEER OPPORTUNITIES on OPEN days: Tuesday, Thursday, Saturday 10am until 2pm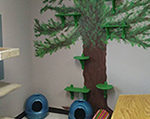 Laundry: folding towels/blankets, sorting
Dusting, sweeping, vacuuming
Cutting and stapling: scratch paper
Cleaning: inside viewing windows
Sorting: leashes, collars, doggie outfits, toys
Sharpening pencils – yes really!
Dishwashing: food and water bowls and buckets
Sanitizing: litter boxes and brooms
Landscaping: water plants, pull weeds, clip dry leaves
Cutting used linens for rags
etc., etc., etc.
Please CONTACT us if you are interested in volunteering your time and talents. Your help is greatly needed and very much appreciated!
COMMITTEE OPPORTUNITIES
The following committees need your expertise. Please CONTACT us if you are interested or have any questions.
Fundraising – large and small events
Newsletter – quarterly update of happenings