Name: Delilah
Gender: Female
Age: 2 Year(s)
Breed: Boxer
Code # 00736
Delilah was brought in to us with her one day old puppies. She was found at a high school trying to have her babies in a bush when a lady decided to take her home. She is very sweet, a good mom but does have some jumping habits we are trying to work on. She will be a great dog for whoever decides to give her a chance.
Name: Harley
Gender: Male
Age: 10 Year(s)
Breed: American Staffordshire Terrier
Code # 00686
Harley came to us as an owner surrender simply because she was no longer able to care for him. He may be an older gentleman but he runs our fence lines and can keep pace with our 2 year old dogs. He does good with other dogs, has been around kids and he is fully potty trained. His adoption fee is $75, it includes his microchip, all vaccines (he came to us fully vetted) his neuter and the monthly flea and tick and heartworm prevention we provide while they are in our care.
Name: Lunna
Gender: Female
Age: 1 Year(s)
Breed: Old English Sheepdog
Code # 00762
Lunna was an owner surrender due to no fault of her own. She is very sweet and confident. She is slightly reactive over other dogs but this may just be due to a barrier issue. Lunna needs a big yard to play in and someone with experience handling her type of hair just because it can easily become matted and painful if not properly cared for.
Name: Memphis
Gender: Female
Age: 4 Year(s)
Breed: American Staffordshire Terrier
Code # 00704
Memphis is a 70 pound hunk of love who loves to give the best kisses. She was an owner surrender at Ingleside Animal Control who had become overly stressed from the kennel environment when we decided to give her a chance. Memphis is definitely a staff favorite. She was heartworm positive when we got her but her treatment was sponsored by one of our staff members and she has completed her treatment. She will need to be retested in January to make sure the treatment killed all the heartworms.
Name: Miss Sunshine
Gender: Female
Age: 5 Month(s)
Breed: Staffordshire Bull Terrier
Code # 00742
Sunshine was found wandering around Aransas Pass, the people who brought her to us actually almost ran her over. We think she may have been dumped because of her skin issues she came in with. Sunshine has already grown the majority of her hair back and is doing much better. She is so happy and so loving to adults and kids. This sweet girl wants nothing more than to have a home of her own.
Name: Roscoe
Gender: Male
Age: 3 Year(s)
Breed: Black Mouth Cur
Code # 00763
This sweet boy was picked up as a stray and was brought into us. He is a very sweet, well mannered boy so we know he had an owner at some point. He is heartworm negative, neutered, microchipped, vaccinated and potty trained.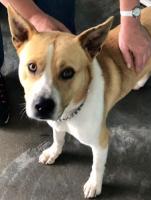 Name: Skeeter
Gender: Male
Age: 1 Year(s)
Breed: American Staffordshire Terrier
Code # 00625
This happy, strong and playful dude is one year of age. Skeeter is about 45 pounds of muscle! He is a friendly boy and our vet techs are working hard at teaching him basic commands and manners like how to walk on a leash. He loves his people and will get along with other dogs with a proper introduction and the reminder of not to play too rough. Skeeter is neutered, is up to date on vaccines, and is heartworm negative and on preventative.
Name: Zeus
Gender: Male
Age: 1 Year(s)
Breed: Pit Bull Terrier
Code # 00639
Zeus is a smaller boy with a lot of energy so a home with older kids would probably be best. He is a love he just isn't quite aware of his limits when it comes to jumping and playing rough. He needs a lot of exercise and patience but will make a good family dog with some patience.